Since the European invasion of the continent known to Indigenous People as Turtle Island, the original inhabitants have experienced unspeakable harm, accurately described as genocide, at the hand of their white invaders. Population collapse which began at 1st contact between Europeans and Indigenous people in Native America spans centuries and involved no less than eight colonial or federal governments, and thousands of distinct indigenous empires, cultures, and confederacies.  The definition of genocide is "the deliberate and systematic extermination of a national, racial, political, or cultural group." The Journey of Healing's purpose is to provide tools to move beyond romanticization or denigration or co-option and move toward understanding and change.
White scholars estimations of the Indigenous population before first contact vary widely. In 1924, Paul Rivet and Karl Sapper estimated that between 40 and 50 million people lived in the hemisphere. Both Rivet and Sapper later revised their estimates downward to 15-31 million.  In 1964, Woodrow Borah estimated  "upwards of 100 million" Native inhabitants. Two years later, Henry Dobyns estimated the Indigenous population of the hemisphere to be between 90 million and 112.5 million.   In 1987, Thornton provided an estimate of about 75 million and the following year, Dobyns revised his estimate significantly upward to 145 million. In 1992, Stannard estimated the original population of the hemisphere at about 100 million.
Whether it was 15 million or 145 million, in 1800, only about 600,000 Indigenous people remained in the United States. By 1900, the Indigenous population in this country reached its lowest point of about 237,000 people.
Healing can not start until those of us in and of the oppressor class understand the history of our ancestors.
One the other pages in this section we have divided the information into three categories:
The Foundation of the Genocide (found in the Doctrine of Christian Discovery beginning legally with the Papal Bulls,)
Legal Genocide (using the Doctrine of Christian Discovery which provided the legal frameworks to entrench genocidal policies found in the US Constitution, the legal slavery of Indigenous people and the treaties made but never kept,) and Racial/Cultural Genocide (enabled by the Board school policies, outlawing religious practices and fostering policies of Lingustical genocide.)
DID YOU KNOW?
Did you know that in the state of Colorado it was legal to kill native people until August 17, 2021?
—
In 1864, after years of growing tension between settlers & surrounding tribes, Govenor John Evans signed a proclamation legalizing the hunt & kill of native people.
—
In November of that same year US troops slaughtered hundreds of innocent Arapahoe & Cheyenne men, womxn & children in what is now known as the Sand Creek Massacre.
—
On Tuesday August 17, 2021 Colorado Governor Jared Polis signed an executive order undoing a 157 year old law that legalized killing and genocide of Indigenous people.
       ……………………………………..
For 157 years, a Colorado governor's order to kill Native Americans remained on the books. Not anymore.
By Jonathan Edwards | August 20, 2021
---
Excerpt from the article…
---
Throughout 1864, tensions escalated between White settlers and Native Americans on the Colorado frontier. So John Evans, the territory's second governor, made a proclamation in June of that year, telling "friendly Indians of the Plains" to report to outposts like Fort Laramie and Camp Collins for safety and protection.
Two months later, Evans issued a decidedly darker order, authorizing all citizens of the territory to "kill and destroy, as enemies of the country, wherever they may be found … hostile Indians."
Following are four posts that contain documented examples of genocide.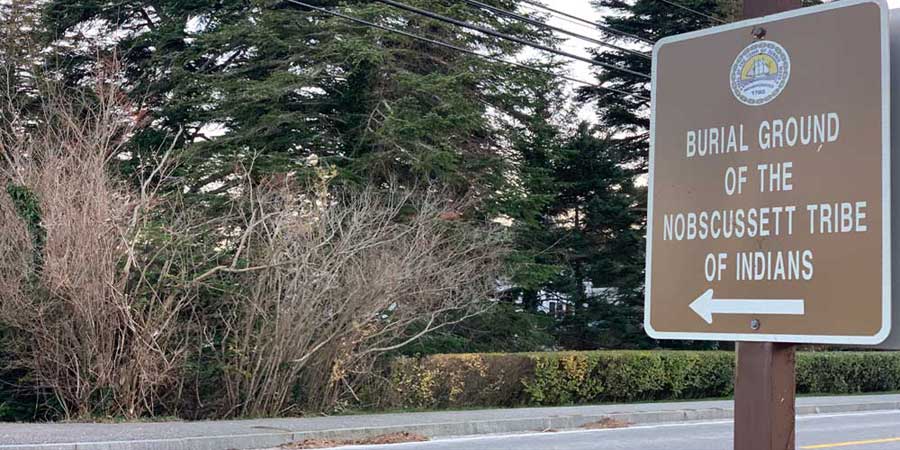 One Example of the genocide that occurred from first content. down the street where I live. "In 1614, English Captain Thomas Hunt captured over 20 Nausett and Patuxet, who, along with the Nobscussett were part of the Wampanoag confederation. They were brought to Spain where Captain Hunt sold as many as he could into slavery. In 1618/19, a plague killed most of the Nobscussett."
read more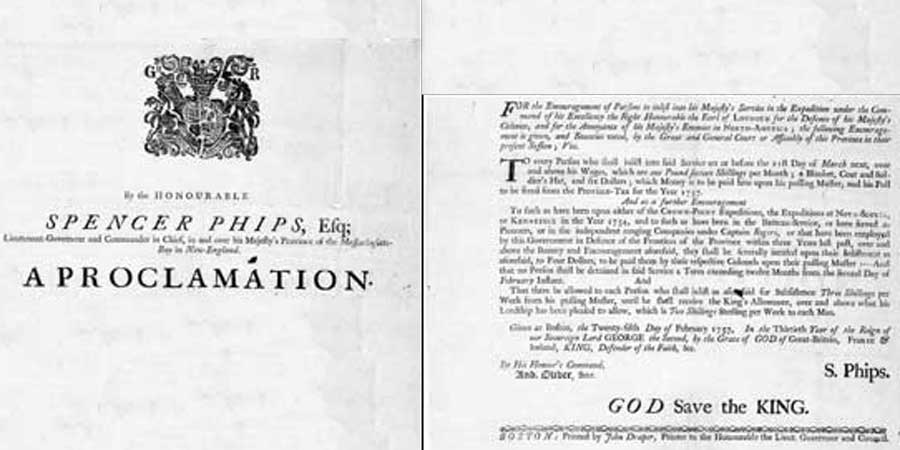 A second example of genocide is a proclamation from Massachusetts/Maine concerning the Penobscot:
Included in the proclamation is "For every Scalp of such Female Indian or Male Indian under the Age of twelve years that Shall be killed and brought in as Evidence of their being killed as aforesaid, Twenty pounds"
read more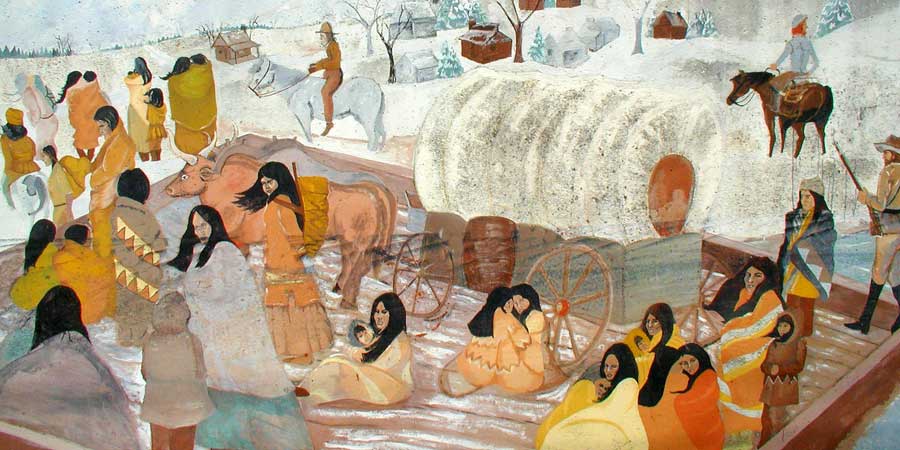 A third example of genocide is what President Andrew Jackson called "Indian removal."  In 1830, as President, he signed the Indian Removal Act, which gave the federal government the power to exchange Native-held land east of the Mississippi for land in the west, in the "Indian colonization zone."
Read the recollections from James Scott last survivor of the Trail of Tears.
read more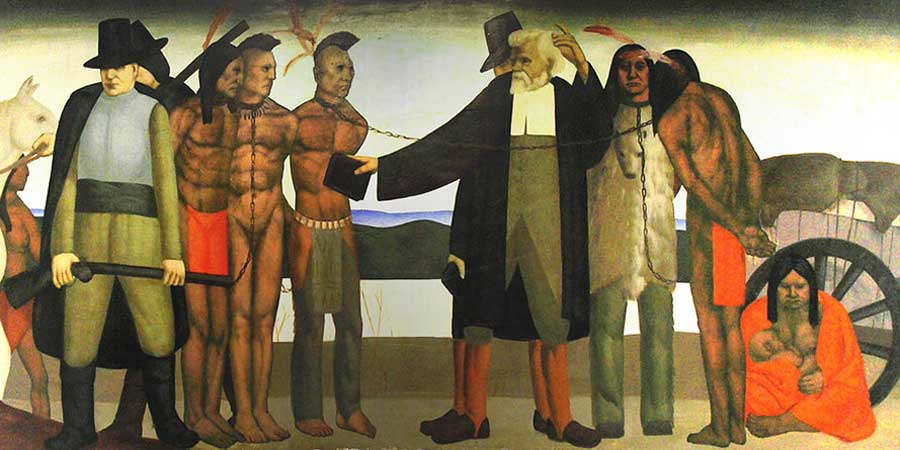 While natives had been forced into slavery and servitude as early as 1636, it was not until King Philip's War that natives were enslaved in large numbers, Fisher wrote in the study. The 1675 to 1676 war pitted Native American leader King Philip, also known as Metacom, and his allies against the English colonial settlers.
read more
"These laws of Louisiana apply only to slaves as when a black person is arrested if not claimed as a slave or proved to be free in two years he is sold as a slave; hence it follows that those free men who were arrested, being without money to pay expenses, become slaves by the operation of the laws of Louisiana.
In pursuing the cook of the William Tell, I found three other freemen confined in the same prison, one belong also to Baltimore, by the name of Leaven Dogerty: he was also released on my paying $28 expenses; one was a descendent of the Indians who once inhabited Nantucket — his name was Eral Lonnon, the grandson of Sarah Tashmy, who with Peter Micha and Joshua Chicken we're the only three Indians I remember to have lived at Nantucket during my boyhood. Peter Micha then saved my life: he was, on a warm summers day, sitting in the shade of Barney Bunker's mill, in approaching which my horse fell and rolled on me, so that I could neither move or call for help; when the old Indian Spring from his seat, swung his staff and shouted until he calls the horse to release me — and I am very happy to have had an opportunity to render a service to one of the few remaining of his tribe, before they become extinct. Lonnon had been six weeks in prison; he was released without difficulty on my paying $20 expenses, and no one seemed to know why he has been confined or arrested as the law does not presume persons of mixed blood to be slaves. But for the others, I had great difficulty in procuring what was considered competent witnesses to prove some free. No complaint of improper conduct have been made against any of them. The recorder said the witness must be white. Lonnon had been employed in the South Sea fishery from Nantucket and New Bedford, nearly all his life; has sailed on those voyages in the ships Eagle, Maryland, Gideon, Triton and Samuel. He was born at Mashpee Barnstable County Massachusetts and prefers to encounter the leviathan of the deep rather than the turn-keys of New Orleans."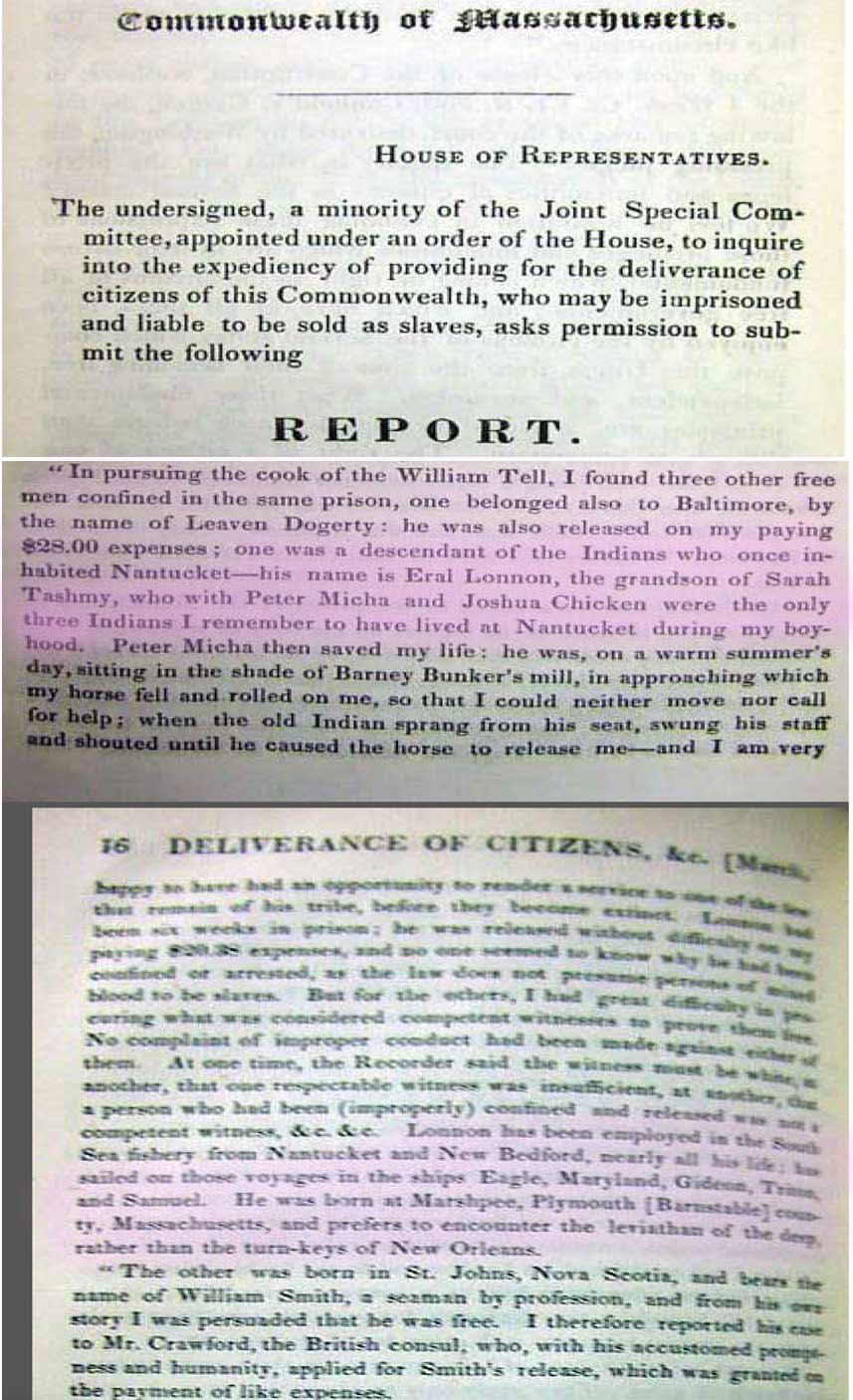 See Detour Spotting — for White Anti-Racists:
The above link takes you to 28 specific attitudes or behaviors that indicate a detour or wrong turn into white guilt, denial or defensiveness. and explain a Reality Check and Consequence for each.
Number 16 is particularly relevant to the content of this website.
16) I Was An Indian In a Former Life 
 "After that sweat lodge I really know what it feels like to be an Indian. I have found my true spiritual path."
Reality Check and Consequence
This is spiritual or cultural appropriation and poses a serious threat to the integrity and survival of Native cultures. To fill a void in their own spiritual core, some white people are drawn into the New Age garden to pick from a variety of Native spiritual practices usually offered for sale. (White writers, such as Lynn Andrews and others, garner high profits from fictitious "Indian" writing and teaching, while many Native writers can't find publishers.) Since Native spiritual practice is inseparable from history and current community, it cannot be disconnected from that context to service white people searching for life's meaning. Appropriating selected parts of Native cultures romanticizes the lives of Native peoples while denying their struggles. Their land and livelihoods stolen, indigenous peoples now see white people trying to steal their spirituality. Rather than escape our white racism by finding a spiritual path, we instead collude in one more way with the genocidal attacks on Native cultures.