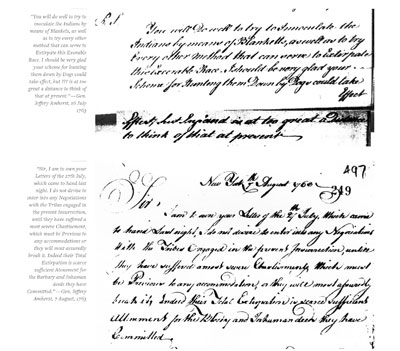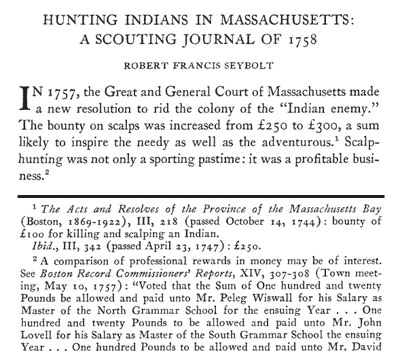 Click here to also see:
Grim Commerce Scalps, Bounties, And The Transformation Of Trophy
by MARGARET HAIG ROOSEVELT SEWALL BALL
Following are four posts that contain documented examples of genocide.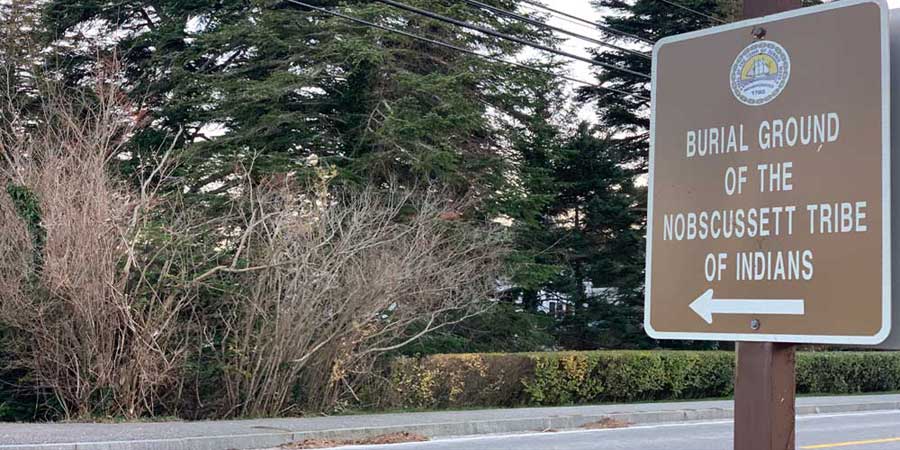 One Example of the genocide that occurred from first content. down the street where I live. "In 1614, English Captain Thomas Hunt captured over 20 Nausett and Patuxet, who, along with the Nobscussett were part of the Wampanoag confederation. They were brought to Spain where Captain Hunt sold as many as he could into slavery. In 1618/19, a plague killed most of the Nobscussett."
read more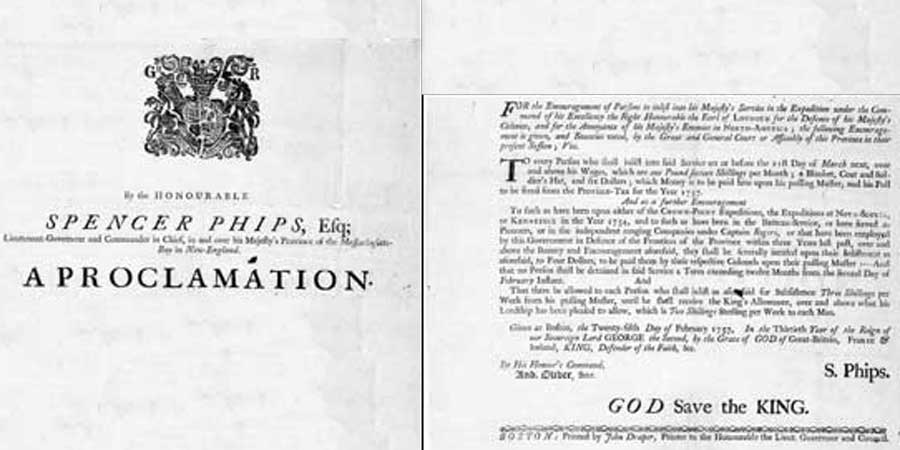 A second example of genocide is a proclamation from Massachusetts/Maine concerning the Penobscot:
Included in the proclamation is "For every Scalp of such Female Indian or Male Indian under the Age of twelve years that Shall be killed and brought in as Evidence of their being killed as aforesaid, Twenty pounds"
read more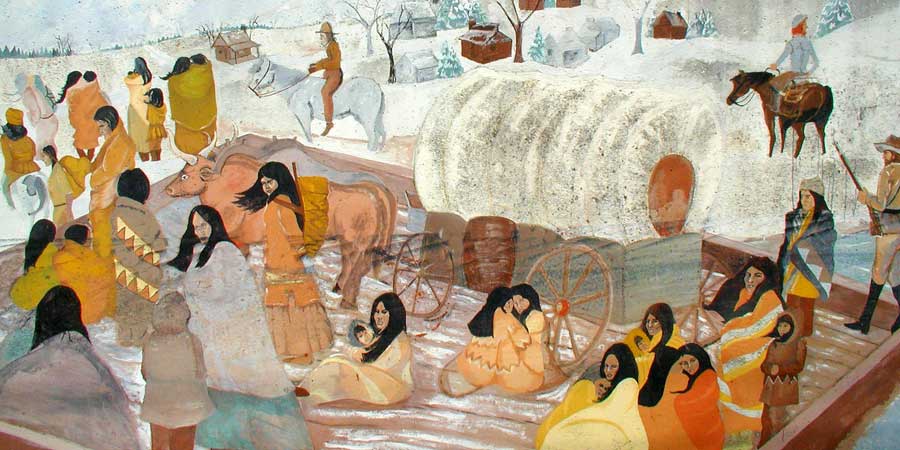 A third example of genocide is what President Andrew Jackson called "Indian removal."  In 1830, as President, he signed the Indian Removal Act, which gave the federal government the power to exchange Native-held land east of the Mississippi for land in the west, in the "Indian colonization zone."
Read the recollections from James Scott last survivor of the Trail of Tears.
read more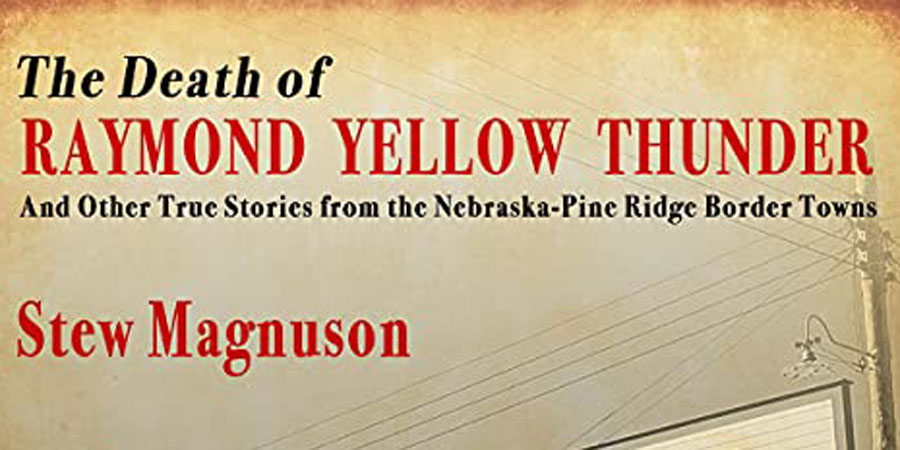 Raymond Yellow Thunder, 1972
"The man who caused the American Indian Movement to gain national and worldwide attention was an Indian cowboy from Pine Ridge. His name was Raymond Yellow Thunder and we should never forget his name or the abuses his murder revealed.
Native American rancher, Raymond Yellow Thunder, in 1972 was attacked by racists, stripped from the waste down, and forced into an American Legion bar where people made fun of him, forced him to dance, and put cigarettes out on him.
ON A COLD WINTER EVENING in 1972, four young, restless white men and one woman werePrinter friendly version drinking beer and cruising the streets of Gordon, Nebraska, when they came upon an intoxicated Oglala Lakota ranch hand named Raymond Yellow Thunder.
They grabbed him by the hair, punched him in the face, stripped him from the waist down, and forced him into the trunk of their car. They thought it would be a great joke to shove him half-naked into the American Legion Hall, where a benefit dance was underway.
The townspeople stared in shock as the bruised Indian cowboy in the doorway pulled his shirttail down to cover himself and hid his face in shame. They took him outside to beat him to death. They put him in a trunk of their car and drove around. Then they put him into the cab of a pickup truck in a used car lot where he died. Two little boys found his body a week later. He had died of a cerebral hemorrhage.
His death became notable as an example of a racial assault, as he was murdered by four white men who had bragged earlier that evening about beating an Indian.
Melvin and Leslie were initially charged with assault and battery and released without bail. After AIM protested, the charges were upgraded to second-degree manslaughter. One of the five was never charged with anything. Three of them were charged with manslaughter and the fourth was charged with false imprisonment. But it was two months after the murder, in May of 1972, before any charges were made.
Raymond Yellow Thunder was castrated, his skull was crushed with a tire iron and he was tortured with lit cigarettes.
The murders received a light sentence. Leslie and Melvin Hare were eventually convicted of manslaughter and sentenced to six years with a $500 fine, and two years with a $500 fine, respectively.
The authorities were not going to charge anybody at first. But after a protest by a caravan of AIM people and people from Pine Ridge, the Hare brothers were charged. They were convicted and sentenced to a year in prison. The local Indian leaders called on AIM to come in to help protect them. The AIM protests over Raymond's killing and the killing of Wesley Bad Heart Bull led directly to the Indian occupation of Wounded Knee in February 1973. AIM later established the Yellow Thunder Camp in Raymond's honor.
Murders of Indians had been going on in South Dakota for a hundred years by that time. Before the Hares, allegedly, no white man had ever been arrested, tried, or convicted for killing an Indian. It was as hard to convict a white man of killing an Indian in South Dakota as it was to convict a KKK member for lynching a Black man in Alabama.
The signs in stores, bars, and restaurants that said "No Dogs or Indians Allowed" had started to come down by then.
Raymond Yellow Thunder was born near Kyle on the Pine Ridge Reservation. He was a direct descendant of American Horse, a so-called progressive chief who believed strongly that education and hard work was the best way for the Lakota peoples to advance. Raymond's parents, Andrew and Jennie felt the same, and they maintained a farm and a small herd of horses. His life was in many ways typical of that era.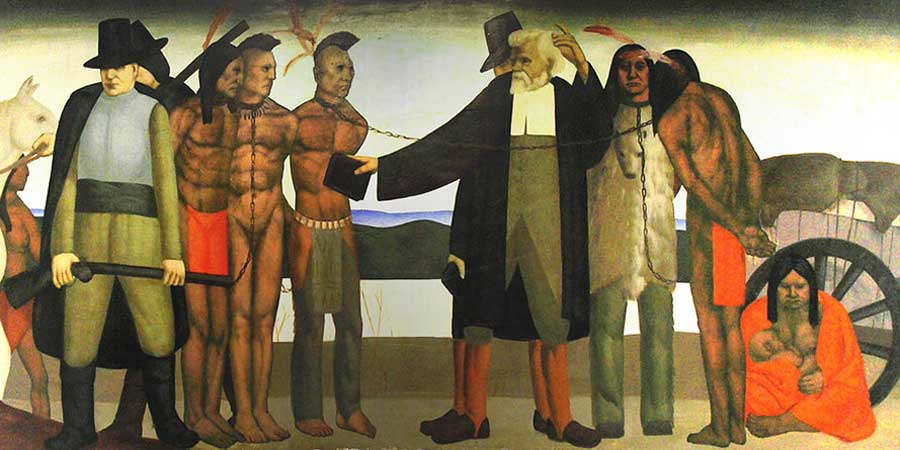 While natives had been forced into slavery and servitude as early as 1636, it was not until King Philip's War that natives were enslaved in large numbers, Fisher wrote in the study. The 1675 to 1676 war pitted Native American leader King Philip, also known as Metacom, and his allies against the English colonial settlers.
read more
"These laws of Louisiana apply only to slaves as when a black person is arrested if not claimed as a slave or proved to be free in two years he is sold as a slave; hence it follows that those free men who were arrested, being without money to pay expenses, become slaves by the operation of the laws of Louisiana.
In pursuing the cook of the William Tell, I found three other freemen confined in the same prison, one belong also to Baltimore, by the name of Leaven Dogerty: he was also released on my paying $28 expenses; one was a descendent of the Indians who once inhabited Nantucket — his name was Eral Lonnon, the grandson of Sarah Tashmy, who with Peter Micha and Joshua Chicken we're the only three Indians I remember to have lived at Nantucket during my boyhood. Peter Micha then saved my life: he was, on a warm summers day, sitting in the shade of Barney Bunker's mill, in approaching which my horse fell and rolled on me, so that I could neither move or call for help; when the old Indian Spring from his seat, swung his staff and shouted until he calls the horse to release me — and I am very happy to have had an opportunity to render a service to one of the few remaining of his tribe, before they become extinct. Lonnon had been six weeks in prison; he was released without difficulty on my paying $20 expenses, and no one seemed to know why he has been confined or arrested as the law does not presume persons of mixed blood to be slaves. But for the others, I had great difficulty in procuring what was considered competent witnesses to prove some free. No complaint of improper conduct have been made against any of them. The recorder said the witness must be white. Lonnon had been employed in the South Sea fishery from Nantucket and New Bedford, nearly all his life; has sailed on those voyages in the ships Eagle, Maryland, Gideon, Triton and Samuel. He was born at Mashpee Barnstable County Massachusetts and prefers to encounter the leviathan of the deep rather than the turn-keys of New Orleans."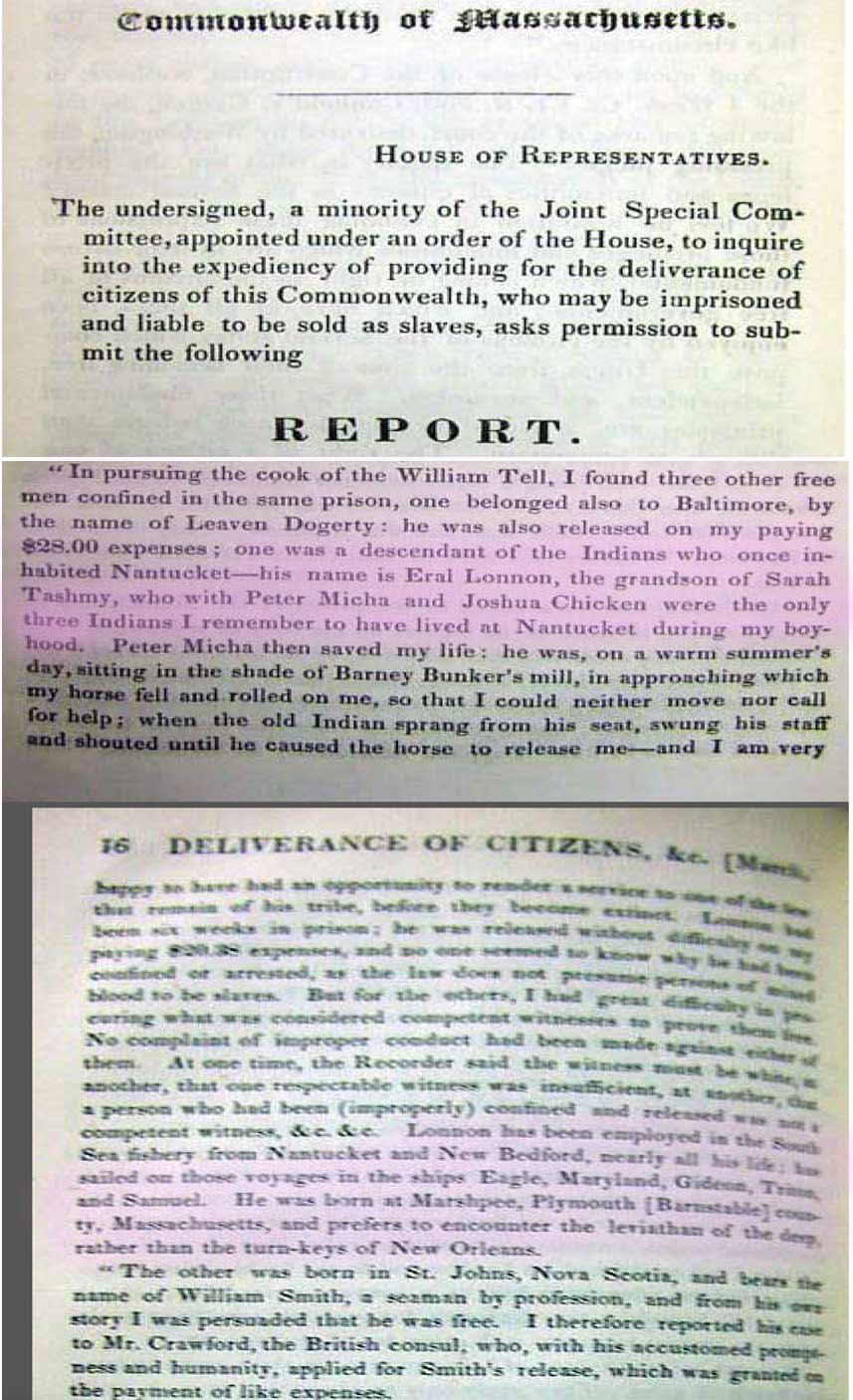 See Detour Spotting — for White Anti-Racists:
The above link takes you to 28 specific attitudes or behaviors that indicate a detour or wrong turn into white guilt, denial or defensiveness. and explain a Reality Check and Consequence for each.
Number 16 is particularly relevant to the content of this website.
16) I Was An Indian In a Former Life 
 "After that sweat lodge I really know what it feels like to be an Indian. I have found my true spiritual path."
Reality Check and Consequence
This is spiritual or cultural appropriation and poses a serious threat to the integrity and survival of Native cultures. To fill a void in their own spiritual core, some white people are drawn into the New Age garden to pick from a variety of Native spiritual practices usually offered for sale. (White writers, such as Lynn Andrews and others, garner high profits from fictitious "Indian" writing and teaching, while many Native writers can't find publishers.) Since Native spiritual practice is inseparable from history and current community, it cannot be disconnected from that context to service white people searching for life's meaning. Appropriating selected parts of Native cultures romanticizes the lives of Native peoples while denying their struggles. Their land and livelihoods stolen, indigenous peoples now see white people trying to steal their spirituality. Rather than escape our white racism by finding a spiritual path, we instead collude in one more way with the genocidal attacks on Native cultures.