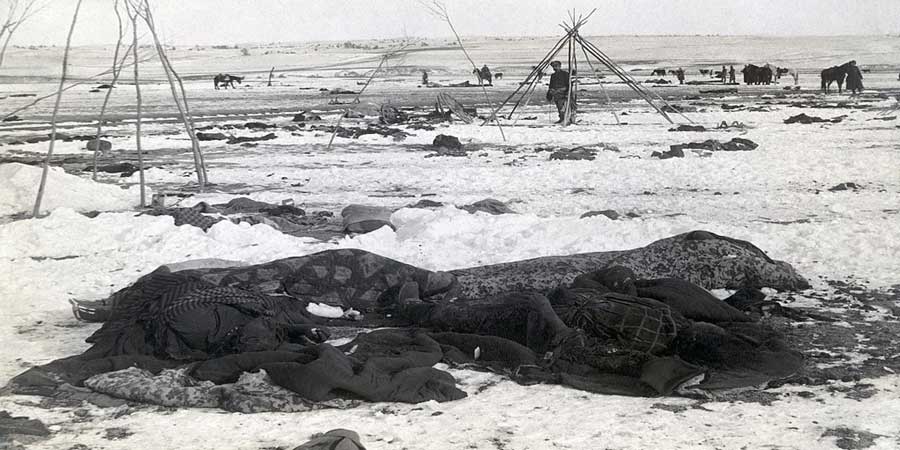 Massacres
Other examples of genocide
are documented in various massacres that occurred. The Pequot War was one of the bloodiest Indian wars ever fought. In 1637 near present day Groton, Connecticut, over 700 men, women and children of the Pequot Tribe had gathered for their annual Green Corn Festival which is their Thanksgiving celebration. In the predawn hours the sleeping Indians were surrounded by English and Dutch mercenaries who ordered them to come outside. Those who came out were shot or clubbed to death while the terrified women and children who huddled inside the longhouse were burned alive.
The next day, John Winthrop (1588-1649), the governor of the Massachusetts Bay Colony declared "A Day Of Thanksgiving" because 700 unarmed men, women and children had been murdered. Cheered by their "victory", the brave colonists and their Indian allies attacked village after village. Women and children over 14 were sold into slavery while the rest were murdered. Boats loaded with as many as 500 slaves regularly left the ports of New England. Bounties were paid for Indian scalps to encourage as many deaths as possible. Following an especially successful raid against the Pequot in what is now Stamford, Connecticut, the churches announced a second day of "thanksgiving" to celebrate victory over the heathen savages.
During the feasting, the hacked off heads of Natives were kicked through the streets like soccer balls. Even the friendly Wampanoag did not escape the madness. Their chief was beheaded, and his head impaled on a pole in Plymouth, Massachusetts — where it remained on display for 24 years.
The killings became more and more frenzied, with days of thanksgiving feasts being held after each successful massacre. George Washington finally suggested that only one day of Thanksgiving per year be set aside instead of celebrating each and every massacre. Later Abraham Lincoln decreed Thanksgiving Day to be a legal national holiday during the Civil War — on the same day he ordered troops to march against the starving Sioux in Minnesota, Abraham Lincoln approved 38 Dakota hanged on December 26, 1862, in the largest one-day execution in American history.This story doesn't have quite the same fuzzy feelings associated with it as the one where the Indians and Pilgrims are all sitting down together at the big feast. But we need to learn our true history
Another genocidal event is the Sand Creek Massacre of 1864. On the morning of November 29, 1864, the Colorado Third Cavalry, under the command of Colonel John M. Chivington, attacked the sleeping encampment of Chief Black Kettle's Cheyenne and Arapaho at Sand Creek. The resulting scene left a large number of unarmed Native American men, women, and children dead, their bodies mutilated by Chivington's men.
What preceded this event was in 1851, California Governor Peter Burnett called for a "war of extermination" to continue "until the Indian race becomes extinct." Governor John McDougal, who followed Burnett as governor, echoed similar sentiments. One year before the Sand Creek Massacre, a less publicized event in Cache County, Idaho (then southwestern Washington territory), took place that ended up bearing striking similarities to Chivington's attack on Black Kettle's sleeping encampment.
As settlers came into increased contact with Shoshoni populations in the region, tensions ran high and U.S. Army detachments were eventually dispatched. The protracted conflict which followed reached a climax on January 29, 1863, on the banks of the Bear River, when Colonel Patrick E. Connor's command attacked Shoshoni Chief Bear Hunter's encampment. The attack left up to 400 Shoshoni dead, some of whom were unarmed, and was followed by the raping of Shoshoni Genocide of Native Americans 21 women and killing of Shoshoni children. Likewise, attention has focused on the Battle of Washita River on November 27, 1868.
Then in what was the final clash between federal troops and the Sioux was the infamous Wounded Knee Massacre of December 28, 1890. It left some 150 young and old, men and women dead, Unarmed Cheyenne women and children were counted among the fallen at the Washita River, as were arguably noncombatant Miniconjou and Hunkpapa Lakota women and children at Wounded Knee Creek.
Oscar Howe's Wounded Knee Massacre
a Rarely Seen Masterpiece by Michael Zimny
The full article on Oscar Howe's Wounded Knee Massacre is here…
---
Excerpt from the article…
---
In 1959, the great Dakota artist Oscar Howe set out to depict the tragedy of the Wounded Knee massacre as only he could. He proceeded to create a powerful, disquieting masterpiece, one many at the time preferred to turn away from, if not decry.
The painting he created stands out not only for its brutality, but as something of an anomaly in the Howe oeuvre. While not reflexively averse to darker subject matter, Howe generally gravitated toward themes that celebrated his Dakota heritage. Yet, the agonized history of that day at Wounded Knee exerted an inexorable pull.