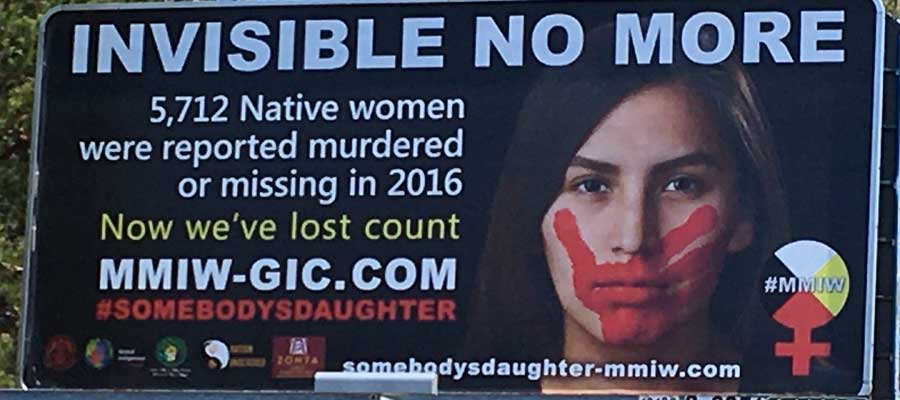 Understanding the Issue of Missing & Murdered Indigenous Women
MISSING AND MURDERED INDIGENOUS WOMEN
Facts About Missing And Murdered
Indigenous Women
There is widespread anger and sadness in First Nations communities. Sisters, wives, mothers, and daughters are gone from their families without clear answers. There are families whose loved ones are missing—babies growing up without mothers, mothers without daughters, and grandmothers without granddaughters. For Native America, this adds one more layer of trauma upon existing wounds that cannot heal. Communities are pleading for justice. …
Why Is There Widespread Silence On This Issue?
There are numerous reasons, but at the forefront lie issues stemming from the Indian Relocation Act and federal policies. Many Native Americans do not live on the tribal lands or reservations (only 22%) where when someone goes missing, the community, and tribal law enforcement band together in search efforts. 78% of America's Native population lives off of the reservation with 60% of those residing in an urban area. Cities offer few ties to Native cultures, communities, and tribal law enforcement.
The Native Justice Coalition
The Native Justice Coalition officially launched the MMIWG2S Program in August 2019. The MMIWG2S abbreviation stands for Missing and Murdered Indigenous Women, Girls, and Two-Spirit People. There has been a growing movement across Canada for several years and now the Global Indigenous Council has started this billboard campaign which has been supported by Native American Congresswomen including Deb Haaland (D-NM) and Sharice Davids (D-KS). In 2019, we have launched this program with a billboard campaign in the Great Lakes. Our goal is to locate these billboards in our rural and remote Native communities.
This program addresses this ongoing violence and continued genocide that affects Native women, girls, and Two-Spirits across the US and Canada.
---
Continue our MMIW billboard campaign in Michigan and the Midwest.  It is our goal to have several billboards running at once in different Native and partnership communities.
Locate a significant portion of our billboards in our rural and remote Native communities.  Also, locate billboards in urban communities such as Green Bay, WI, and Grand Rapids, MI.
Build new collaborations and partnerships to strengthen this work.
Inspire and ignite action such as vigils, marches, or other community awareness events.
Create greater community safety for our Anishinaabe and Great Lakes Native communities around this issue.  This could include self-defense training, advocacy, and awareness training.