After learning about the Harm of yesterday and Healing today,  forming an Acknowledgment statement and an apology, the next step is being in enough of a relationship with a tribal group to share this work and negotiate on how it could be accepted. Acting in solidarity is a way to begin to establish this relationship. It also is the framework for finding ways to make amends in order to move forward together. It is not easy, quick or simple. It takes long-term, unwavering committment.
L
ove is the driving force
behind, below, and surrounding all real actions of solidarity. If this love is at the root of the engagement; if it is deep, real, selfless and coupled with respect, then most of the mistakes (which will be numerous and ever-present) have some potential to be forgiven. Without love and respect directly expressed through action, then all and any hope is lost for being in real relationship, in wholeness. Note: asking outright isn't often the best way to find out the information.
To begin the journey of acting in solidarity, identify the indigenous group closest to where you live. It most often won't be a recognized tribe but a smaller group. Find out if the group is considered by other established tribal groups to be legitimate. (Read the section on appropriation which explains some of the behavior that could make this confusing.)
Once a group has been identified the primary skill in acting in solidarity is patience and being able to pay attention. What impact from the external, non-indigenous community concerns THEM the most? Note: asking outright often isn't the best way to get this information. Not drawing attention to yourself (you will be noticed) but rather quietly listening and observing, even though it takes time, can reveal the information you are seeking.
One simple way of starting is to look for those concerns that are national in scope. In the 1980-2000 non-indigenous people could join the fight for Leonard Peltier. There were marches and vigils, letter writing campaigns and fasting that allies could join in with their local Tribal group. Paying attention though we can see that today very few tribal groups are actively involved. They have their reasons which those outside the Tribe do not need to know.
One easy and effective way to demonstrate solidarity is by donating money (or better land; see Sovereignty page). If you do decide to physically join an action or demonstration though, make sure you are as inconspicuous as possible. Learn what is hoped and expected and especially what is unacceptable by observation and paying attention. No matter how quiet you are know that you will be noticed. Even seemingly little things, like entering a circle by moving counter clockwise can be important. It is also critical that you provide for your own physical needs; you will not be acting in solidarity if you become a burden.
Finally, it is good for non-Indigenous people to know that flirting or engaging in intimate relationships with a Tribal member can substantially and permanently alienate you from others in the Tribe.
Change the Mass Flag
---
For more than 50 years , Indigenous leaders have been calling for the Flag and Seal of Massachusetts to be changed.
Rep. Jack Patrick Lewis of the 7th Middlesex District, said the seal, "developed at a time when local officials and later the Massachusetts government offered bounties for native scalps, was never intended to honor native peoples as some now retroactively argue."
Why is a change needed?
The imagery of the Massachusetts Flag and Seal – a white hand holding a Colonial sword over the head of an Indigenous person, above a Latin motto that translates: "She Seeks by the Sword a Quiet Peace under Liberty" – is seen by many as a symbol of violence against Indigenous people, and a memorial to the violent colonization of their homelands. Finally, Native leaders of the area are being consulted about a new design for a flag and seal that may better express the ideals of peace, justice, and equality for all the people who now call the Commonwealth their home.
At the January, 2022 meeting of the Special Commission, Mashpee Wampanoag Chairman Brian Weeden told his colleagues, "The current seal is a reminder of the oppression of Native Americans, an offensive design of arm and sword over the Native American."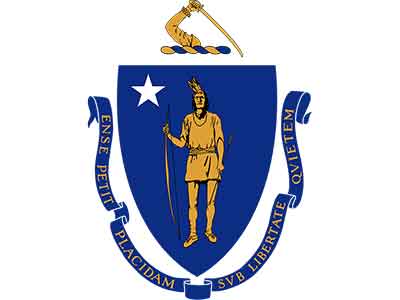 There are a large number of other ways to act in solidarity.
One way is to look for images of indigenous people which are used by the doninate society such as the Massachussetts State seal or the use of offensive place names, imagery and language. one of the most egregious is the term "redskin." See GRIM COMMERCE: SCALPS, BOUNTIES, on the Legal Genocide page, (half way down).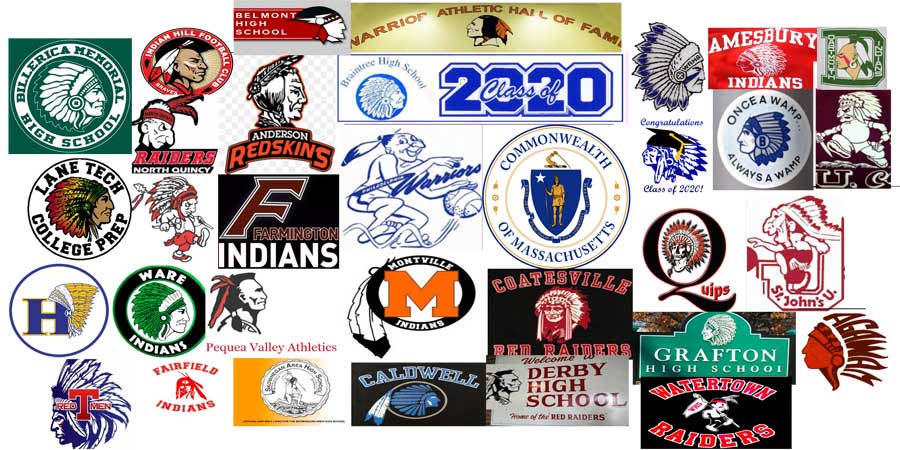 Native American Mascots are Dehumanizing and Need to be Banned
---
Excerpt from the article…
---
A s a Native American woman, I am regularly confronted with mascot images that dehumanize Native Americans as hostile and aggressive. These images are usually cartoonish depictions of our traditional dress and lifestyle from the 1800s. …
On a daily basis, American Indian youth experience negative stereotypes and microaggressions harming their self-esteem according to a 2015 study published by Utah State University psychologists Merill L. Jones and Renee V. Galliher. These same youth have the highest rates of suicide, alcohol related deaths, and the lowest quality of life in the nation. …
Where do Native American youth learn to think of themselves in less than positive ways? The most prevalent places occur in neighborhood school systems and in mainstream sports with derogatory "Indian" mascots that are imposed on Native people against their will.
Change the Mascot
---
Excerpt from website…
---
Here you will find a huge amount of resources. "Change the Mascot is a national campaign to end the use of the racial slur "r*dskins" as the mascot and name of the NFL team in Washington, D.C. Launched by the Oneida Indian Nation, the campaign calls upon the NFL and Commissioner Roger Goodell to do the right thing and bring an end the use of the racial epithet. View Our Fact Sheet
Read: Native Americans Unite to Speak Out Against Racially Offensive Mascot Name
View: Ten facts omitted by the Washington D.C. team's new PR website
Read: Letters to Twitter, Google and Facebook from the Change the Mascot Campaign
Editorial: "A Change Will Come" by Oneida Nation Representative Ray Halbritter"
They also have a "History of Progress" from 1968 – 2020
So think about the sports teams in your area looking especially at High school teams. What work does your community need to do?
Hope/Despair
The seesawing of hope and despair is something that most us feel if we carry a concern for racial justice. We grasp for wellsprings of hope in those who join us on this journey
But after the Rittenhouse verdict I wasn't able to connect with this hope. Despair enveloped me. I just felt so hopeless that like the Trayvon Martin case, a white boy with a gun kills and gets off free and clear, even celebrated. And boys of color like Tamir Rice; they end up dead. I thought about the intense energy, the time and prayer I've put into ways to help create a society where everyone gets home safely, where everyone is treated with respect and dignity where there is a path forward toward beloved community. This includes this website and Tools For Racial Justice.  The fact is that people might say positive things while coming up with excuses to turn away, to ignore. to shun, to pass over. What good was I doing for all that time, energy and prayer? So many people ending up dead and their murderers honored. What's the use?
The Jimmy Stewart movie,"A Wonderful Life" was a well worn and fleeting thought as was that one grain of sand makes a difference. They didn't help. I reminder myself that it's not my job to have a goal for an outcome, that my job was just to do the tasks that God has placed before me, "It is not your job to finish the task, but neither are you free to absolve yourself from it…" Ethics of the Sages ( 2:16 . ) Yet the sense of hopelessness, of total futility overwhelmed me to tears.
I went to the lake and I saw the sunset and the way the wind ruffled the water. It whispered a better sense of grounding; of being one with where I am. I considered what friends who are people color might say; talking about being at this for centuries, of loved ones who have passed on their energy for their people's survival, of perseverance and resistance even though it seems hopeless yet they persisted. Generation after generation where giving in the despair was and still is a luxury they can't afford; a privilege denied. I asked myself, who am I, a privileged white person to complain about despair, yes my ancestors had their own struggles as we all do but they pushed through for the sake of their children and grandchildren. Native people think in terms of seven generations. Even when that seems unobtainable, it becomes a sacred duty to struggle for Life.
As I walked away from that moment the Paradoxical Commandments (below) came to me. One step in front of the other, appreciating the world around me, the gorgeousness of the black silhouetted trees against the sunset colors and the dark blue of the water, connectedness the work and the people. Right here, right now, know now: It's magical 2 — Be beingness. Love works.
Always,
Rachel
………………………..
The Paradoxical Commandments (a version of which found written on the wall at Mother Teresa's)
• People are illogical, unreasonable, and self-centered.
Love them anyway.
• If you do good, people will accuse you of selfish ulterior motives.
Do good anyway.
• If you are successful, you win false friends and true enemies.
Succeed anyway.
• The good you do today will be forgotten tomorrow.
Do good anyway.
• Honesty and frankness make you vulnerable.
Be honest and frank anyway.
• The biggest men and women with the biggest ideas can be shot down by the smallest men and women with the smallest minds.
• What you spend years building may be destroyed overnight.
Build anyway.
If you find serenity and happiness, some may be jealous. Be happy anyway.
• People really need help but may attack you if you do help them.
Help people anyway.
• Give the world the best you have and you'll get kicked in the teeth.
Give the world the best you have anyway.
In the final analysis, it is between you and God. It was never between you and them anyway.
© 1968, 2001 Kent M. Keith
A major action that has been active for decades is the "Not our Mascot" protests.
Below are some examples of responses to small acts of solidarity
click to view larger images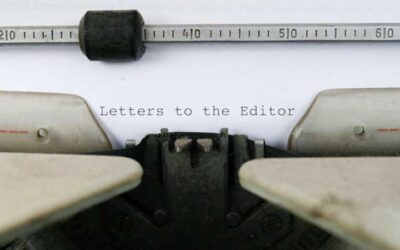 Individual actions can make a difference. Some, like writing letters to the editor, can be a tiny form of expressing solidarity. Although small, one after the next, after the next will build into something worthwhile. Letters to the Editor of Cape Cod Times Who's...
read more
There are many other ways as well. One of the simplest is writing letters to the Editor on something critical that effects the indigenous people in your community. As said before, everything is local so find out the actions of resistance that members of your local tribe is engaged in and with humility and meekness see if outside participation would be acceptable. Below are some examples. There are some actions in which indigenous communities all across the country are engaged. Although efforts have died down considerable, decades ago one such action was for the release of Leonard Peltier. Today the DAPL (The Dakota Access) pipeline and Standing Rock.
Intention V Outcome
When intending to stand in solidarity with Indigenous people it is important to know about the highly controversial issues that Native People grapple with that it best for a non-Native person to not bring up or engage with. If you have an established relationship with an individual who tries to draw you into a conversation the best way to respond is say something to the effect that "I know you have the best intentions for your people in your heart and will do the right thing" period. If they invite you to stand in solidarity with them and you decide to join them, know that you might become a persona non gratis with a different indigenous community or even with a faction of the tribal group of your friend. One example of such an issue is gambling casinos.
Terms
Many things are complicated for non-indigenous people when interacting with different tribal groups or individuals. Terms can be especially problematic. Some people find the term "Indian" offensive while others embrace it and many prefer "Indigenous People" to "Native American". Almost all feel that the proper way to address identity is only with the name of the local group such as Wampanoag, and differentiate between Aquinnah, Mashpee ot small subsets.
As said before, everything is local. Some terms though are a landmine for offense. One such term is "Squa." Many indigenous people from North America feel this is a highly offensive term related to female genitalia. However the  MacArthur Fellowship and one of USA TODAY's Women of the Century Wampanoag linguist Jessie Little Doe Baird says:
"The answer really depends upon who is asked. Strictly speaking, the semantics of the word simply mean, 'female', 'woman'. Ushq(â) was occasionally used a separate word but it is generally added either as a suffix or a prefix denoting, 'female'. An equivalent in English would be the suffix –ess, such as in the words,

In colonial times, Pilgrims heard the pattern in words that were spoken in Wampanaog and recognized the sound 'ushqâ' or 'shqâ' when women were being discussed. They took the sound by itself to mean, 'woman' and since they did not respect their own women and used the English word, 'woman' as a derogatory term at times, they carried on the same practice with the sound, 'ushqâ'. This does not mean that the sound is a bad word! The Wampanoag language does not contain and swear words or derogatory terms for women. The worst insult I have ever come across referring to a woman in any way in my twenty years of research is a term in Wampanoag that translates to, 'your mother only has one eye'."

Then there are some issues that it is vital that you not engage on the topic in anyway, shape or form. Trying to be helpful, hoping to be a positive force, or feeling led to offer your opinion or perspective might be with the best intentions but the outcome will only result in mucking things up further and cause harm. No good can come of it! One such issue is "Blood Quantum". FYI, blood quantum was initially a system that the federal government placed onto tribes in an effort to limit their citizenship.
So What Exactly Is 'Blood Quantum'?
---
Excerpt from the article…
---
If you're Native American there's a good chance that you've thought a lot about blood quantum — a highly controversial measurement of the amount of "Indian blood" you have. It can affect your identity, your relationships and whether or not you — or your children — may become a citizen of your tribe.
Blood quantum was initially a system that the federal government placed onto tribes in an effort to limit their citizenship. Many Native nations, including the Navajo Nation and the Turtle Mountain Band of Chippewa Indians, still use it as part of their citizenship requirements.article quote
American Indian Identity and Blood Quantum in the 21st Century: A Critical Review
---
Excerpt from the article…
---
IIdentity in American Indian communities has continually been a subject of contentious debate among legal scholars, federal policy-makers, anthropologists, historians, and even within Native American society itself. As American Indians have a unique relationship with the United States, their identity has continually been redefined and reconstructed over the last century and a half. This has placed a substantial burden on definitions for legal purposes and tribal affiliation and on American Indians trying to self-identify within multiple cultural contexts. Is there an appropriate means to recognize and define just who is an American Indian? One approach has been to define identity through the use of blood quantum, a metaphorical construction for tracing individual and group ancestry. This paper will review the utility of blood quantum by examining the cultural, social, biological, and legal implications inherent in using such group membership and, further, how American Indian identity is being affected.