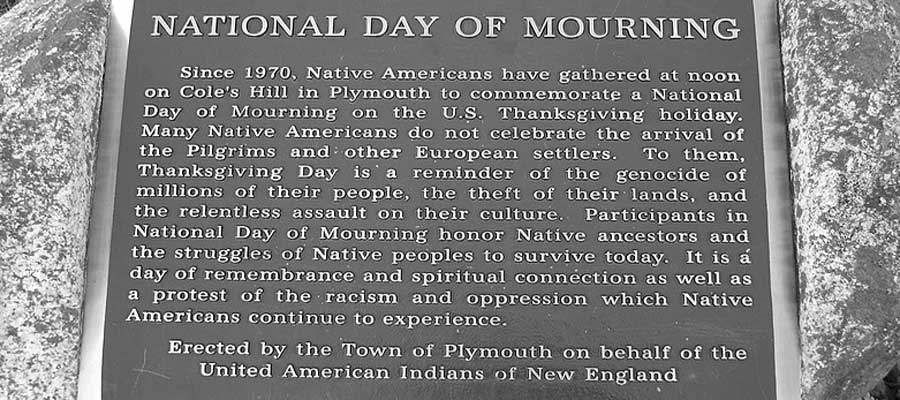 National Day of Mourning
---
Excerpt from the UAINE website…
---
UAINE is a Native-led organization of Native people and our supporters who fight back against racism and for the freedom of Leonard Peltier and other political prisoners. We support Indigenous struggles, not only in New England but throughout the Americas.
We fight back on such issues as the racism of the Pilgrim mythology perpetuated in Plymouth and the U.S. government's assault on poor people. We protest the use of racist team names and mascots in sports. We speak to classes in schools and universities about current issues in the Native struggle. Indigenous people from North, Central or South America who live in New England and who agree with what we are trying to do are welcome to join with us. We also welcome the support of non-Native people from the four directions. We believe very strongly that we must support others in struggle, particularly other communities of color, the LGBTQ community, and the disabled community.
NATIONAL DAY OF MOURNING
Since 1970, Native Americans and our supporters have gathered at noon on Cole's Hill in Plymouth to commemorate a National Day of Mourning on the US thanksgiving holiday. Many Native Americans do not celebrate the arrival of the Pilgrims and other European settlers. Thanksgiving day is a reminder of the genocide of millions of Native people, the theft of Native lands, and the relentless assault on Native culture. Participants in National Day of Mourning honor Native ancestors and the struggles of Native peoples to survive today. It is a day of remembrance and spiritual connection as well as a protest of the racism and oppression which Native Americans continue to experience.