Cultural appropriation subsumes one marginalized group's cultural practices into the dominant group. It is impossible for an individual or group to get to wholeness while this is going on. While groups might not be able to control every one of its members, it can ask the individual to stop and certainly not condone or encourage the appropriating behavior. Yes we are all part of the human family, part of a spiritual oneness, living together on one planet, one home. But in typical families, to preserve harmony, siblings mustn't play with each other's toys without express permission. Each member of the family needs some degree of autonomy and self-determination. This is true for our spiritual family as well. 
Cultural appropriation isn't benign. Regardless of how it is viewed by those of European descent, it creates serious offense for most indigenous communities. The definition of genocide is "the deliberate and systematic extermination of a national, racial, political, or cultural group" clearly cultural appropriation is a tool of this behavior. (Read the section on harm which describes the US's genocidal legacy.)  When every individual from a distinct culture is at some point, and often repeatedly, gaslighted into thinking they are less then others the demoralization erodes racial identity in small and big ways.  When this is coupled with the oppressor group assuming their identity and taking ownership of their cultural heritage, the end result is "the deliberate and systematic extermination of a national, racial, political, or cultural group."
This not only denigrating, demoralizes and erasing the oppressed group's cultural identity or at the very least, cause extreme confusion, (see the post below about the Red Men's society for a good example of how these can intertwine) but this behavior threatens a North American Indigenous People's culture and very existence. This makes it a key building block of genocide.
 "Ethics of the Fathers"  (Pirkei Avot 5:10)
(From the Talmud — approximately 6200 pages of Bible teachings and discussion compiled in the 4th century)
There are four character types among people:
One who says, "What is mine is mine, and what is yours is yours." This is an average character type. (someone who lacks generosity.)
One who says, "Mine is yours, and yours is mine." This is an ignorant person.
One who says, "Mine is yours, and yours is yours." This is a pious person.
One who says, "Mine is mine, and yours is mine." This is a wicked person. (Mishnah – Avot 5:10)
What exactly is considered cultural appropriation?
For a non-Indigenous person to lead a workshop for white people on Native Spirituality is by definition, cultural appropriation of the worst kind.
Some (but not all) Indigenous leaders are not seriously offended by good-hearted white people finding native practice personally meaningful such as using a smudge stick in the privacy their home. What is offensive to almost all is doing it in public, (like pretending to be Native) and what is totally non-negotiable is providing it as a service to a group such as a workshop, or sweat lodge. Charging money is the cherry on the top.
Just because a Native person or site if offering material, doesn't mean it is agreeable for it to be used by non-indigenous people. Everything is local. It is the local Tribes in one's area who decide what is acceptable and what is not. Find a Tribal group who has standing with neighboring Nations (not necessity recognized by US gov't) and see if the traditional leaders are comfortable with you moving forward.
Appropriating Indigenous Spirituality
Cultural appropriation when it's in the context of spirituality, earth centered or sustainable community with a focus towards peace, love, and unity are especially troublesome. This is true whether it is a Rainbow gathering or Quaker Sweat lodge.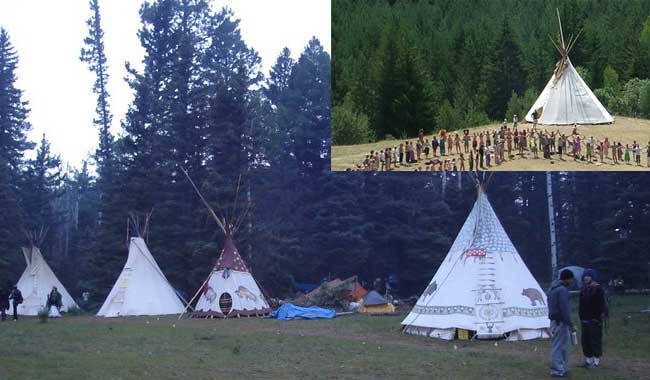 Images from the "Rainbow Gathering"
2- 27- 1994
Dear Friend,
There has been a historic connection between the Wampanoag tribe and Friends on Cape Cod since the 17th century. During a time of severe persecution, the Wampanoag people literally saved many of our spiritual ancestor's lives when they were in conflict with the Puritan establishment. We feel a reciprocal sense of love, respect and responsibility.
I am writing you today out of concern for the distress that is being caused by your use of Native people's spiritual practice. It is not our place to get into the specifics that are causing difficulty. We know that in your heart you have that utmost respect for indigenous culture. Therefore, we urge you to suspend initiating all such activity either on Cape Cod or anywhere else until you receive specific approval from the official body of the local indigenous people. On Cape Cod as you know, that body is the Mashpee Wampanoag Tribal Council.
May the Light of Awareness be Ours,
Rachel Carey Harper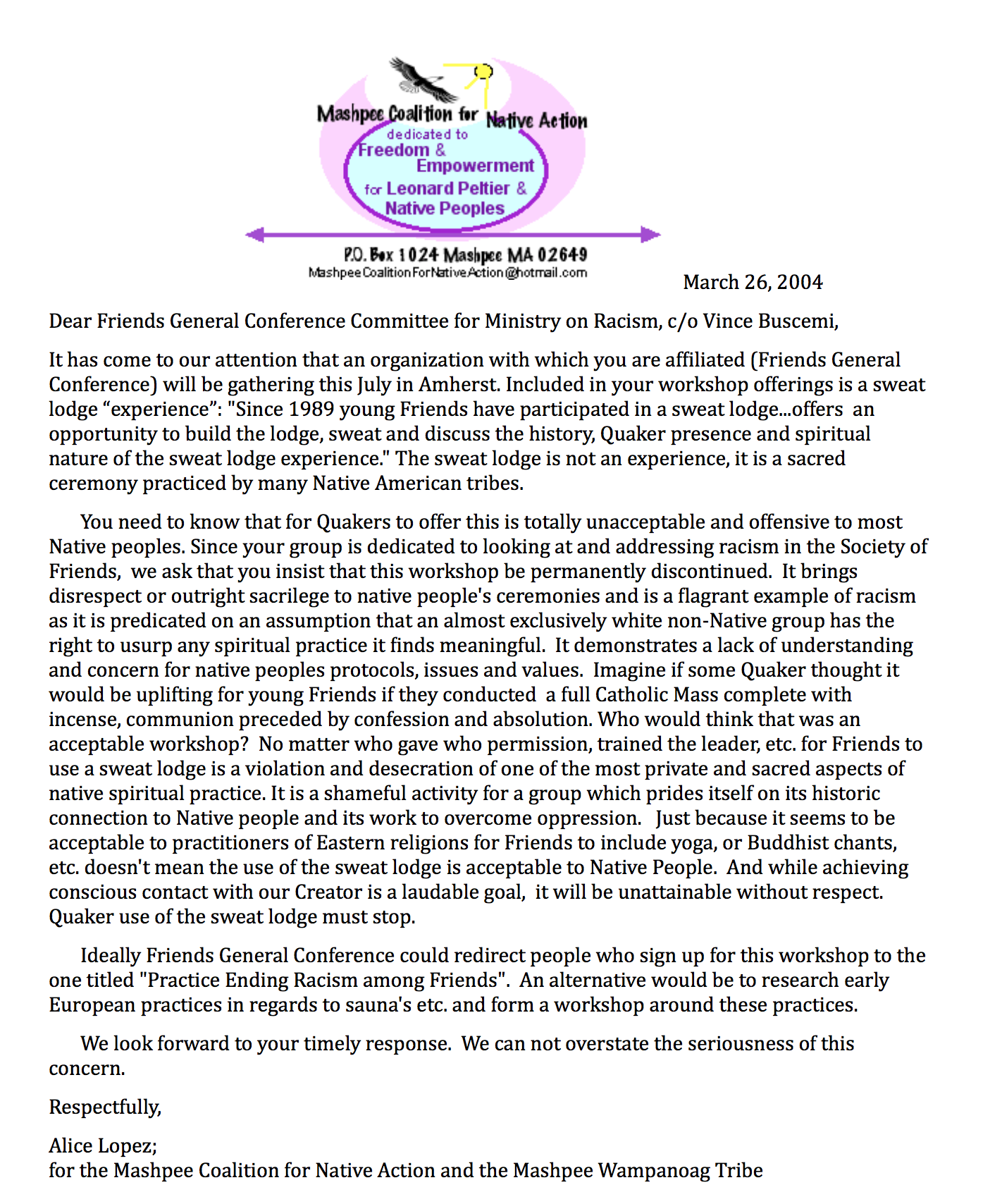 Even after all this time, non-Native Sweat Lodges are still being held.
" [A Quaker Sweat Lodge] is not a Native American Sweat Lodge although George Price, who leads the Quaker Sweat, has a bachelor's degree in Native American History and Culture and has also studied with several traditional Native American teachers"
Note: this is not an activity sanctioned by the Religious Society of Friends (Quaker)

The following posts offer more insight and information about cultural appropriation
by Tanya Rodriguez|Dec 26, 2020 The full article is here… Excerpt from the article… I learned something yesterday When I share with a white person they can not decolonize on stolen land they get really really fragile and pissed that yet again, another brown azz takes...
read more