Christopher Columbus
First Contact
"When Christopher Columbus first set foot on the white sands of Guanahani island, he performed a ceremony to "take possession" of the land for the king and queen of Spain, acting under the international laws of Western Christendom. Although the story of Columbus' "discovery" has taken on mythological proportions in most of the Western world, few people are aware that his act of "possession" was based on a religious doctrine now known in history as the Doctrine of Discovery. Even fewer people realize that today – five centuries later – the United States government still uses this archaic Judeo-Christian doctrine to deny the rights of Native American Indians." Steve Newcomb, Five Hundred Years of Injustice: The Legacy of Fifteenth Century Religious Prejudice
Christopher Columbus used the Papul Bulls to comitt heinous acts of genocide and conquest against the peaceful Native people of the Caribbean. He and his men ordered all natives 14 years or older to collect a certain amount of gold every three months. Natives who didn't collect enough gold had their hands cut off. But it was an impossible tasks. There was virtually no gold around; only a little dust in streams. Many natives fled and were consequently hunted down and killed by the Spaniards.
Bartolomé de Las Casas, a Dominican priest and part of  Columbus' voyage wrote, "They would cut an Indian's hands and leave them dangling by a shred of skin … [and] they would test their swords and their manly strength on captured Indians and place bets on the slicing off of heads or cutting of bodies in half with one blow. … [One] cruel captain traveled over many leagues, capturing all the Indians he could find. Since the Indians would not tell him who their new lord was, he cut off the hands of some and threw others to the dogs, and thus they were torn to pieces." –  : "The Spaniards found pleasure in inventing all kinds of odd cruelties… They built a long gibbet, long enough for the toes to touch the ground to prevent strangling, and hanged thirteen [natives] at a time in honour of Christ Our Saviour and the twelve Apostles… then, straw was wrapped around their torn bodies and they were burned alive."
"The Spaniards cut off the arm of one, the leg or hip of another, and from some their heads at one stroke, like butchers cutting up beef and mutton for market.  Six hundred, including the cacique, were thus slain like brute beasts… Vasco [de Balboa] ordered forty of them to be torn to pieces by dogs."
"The island's population of about eight million people, at the time of Columbus's arrival in 1492, already had declined by a third to a half before the year 1496 was out."  Eventually, all the island's natives were exterminated, so the Spaniards were "forced" to import slaves from other Caribbean islands, who soon suffered the same fate.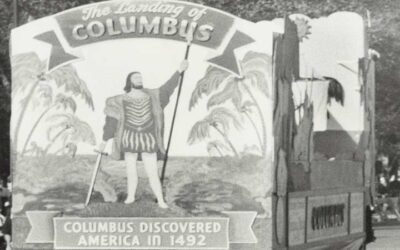 Generations of Native people, however, throughout the Western Hemisphere have protested Columbus Day. In the forefront of their minds is the fact the colonial takeovers of the Americas, starting with Columbus, led to the deaths of millions of Native people and the forced assimilation of survivors.
read more
Why should anyone celebrate and honor this?
The following are posters that were created and then passed out and left on tables at a large gathering of people Columbus Day 2011. Click the images to view in full size.