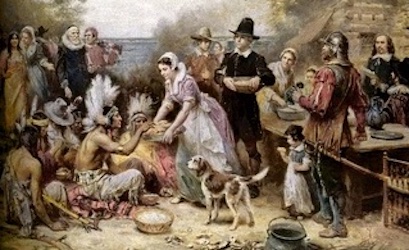 Essayist: Why I Don't Celebrate Thanksgiving
---
Excerpt from the article…
---
Thanksgiving.
The day designated for acknowledging the things I'm grateful for. In my culture, I have been taught to give thanks every day, not just on the one day of the year that other people say we should be the most grateful.
I myself don't celebrate the day called Thanksgiving. For me, what we are celebrating is the arrival of colonialism. It symbolizes the day when everything changed for our people — the day of the symbolic First Thanksgiving meal they taught us about via theater when we were children. …
The atrocities committed against Native peoples across the diverse cultures throughout what we call Turtle Island still affect us. The effects of colonialism run deep throughout our communities. Everything from our foods and families to our religion and culture has been affected by forced European ideologies. Our homelands were stolen — and now those atrocities are spoken about through a simple "land acknowledgement," but there's no intention of returning ownership to the original inhabitants. Of course, I'm speaking of the Native peoples who are so deeply connected to said spaces, so much so that we have stories about creation and religion that connect our peoples to the spaces in which we lived. Yet here we are, in the year 2022, still being told we should be grateful for the "civilized" world and that we should be giving thanks for what the colonists brought. I'll tell you what, I am not grateful for those actions and I will not be giving thanks.